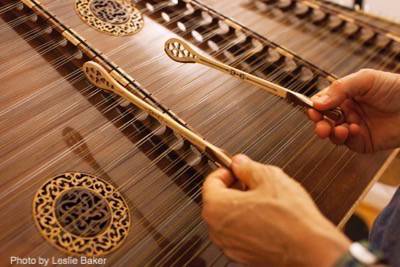 My dulcimers:

Built by Jerry Read Smith

Whenever Eric and I pass through Black Mountain, North Carolina, we stop at a shop called Song of the Wood to play dulcimers and listen to music. On one trip, one of Jerry Read Smith's Grande Concertmaster dulcimers was in the shop. Once I had played it, I asked to be added to the list of people who were waiting for Jerry to build them one. Fifteen months later (just a few weeks too late for me to play it at our wedding), we went to Black Mountain to pick up the finished product.

The Grande Concertmaster shown here is 4 1/2 octaves, and is nearly fully chromatic – which is why I can play pieces like the Satie Gnossienne on it. It features a soundboard of African Mahogany. Other woods include Rock Maple, Rosewood, and Curly Maple. Jerry handcrafts each of his instruments from scratch.

I am fortunate enough to own two of Jerry's dulcimers. I got the second one in 2009, after waiting nearly two years for it. The main difference in sound is that the newer dulcimer has a soundboard that is constructed from a laminate of spruce and mahogany. It therefore has a somewhat brighter sound that is appropriate when I perform with Eric in Constellation. This dulcimer also has a slightly greater range (5 octaves compared to 4 1/2) as well as dampers, which add a lot of color to Constellation's repertoire.

These dulcimers were well worth the wait. I hope you'll enjoy listening to them as much as I enjoy playing them.